Three New Books Co-edited by Prof. Dr. Metin Kozak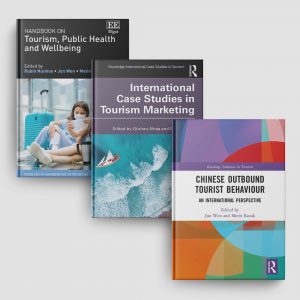 Three new books co-edited by Prof. Dr. Metin Kozak, the Dean of KHAS Faculty of Communication, were recently published by Routledge and Edward Edgar Publishing.
Edited by Gürhan Aktaş and Metin Kozak; Routledge, 2022, 268 pp
This international case study book provides 27 expertly curated case studies on the topic of tourism marketing, each with detailed implementation instructions for the instructor in order to maximise student participation and learning.
The dynamic characteristic of the industry under the influence of micro and macro environment factors requires future professionals to be equipped with appropriate skills and competencies to deal with such factors in real-life practices. Curated and developed by industry experts and practitioners, these case studies embody real-world scenarios with the aim of best preparing students for their future careers. This compelling set of case studies follows a logical and uniform structure and covers topics such as marketing mix, crisis management, digital marketing, quality development, product development and sustainability.
With reflective questions throughout to aid both in-class discussion and self-study, this book is an ideal study resource for use in higher and vocational education, and its unique, teaching-led approach positions it as a vital study tool for instructors and students alike.
Edited by Jun Wen and Metin Kozak; Routledge, 2022, 280 pp
Assuming an international perspective, Chinese Tourist Outbound Behaviour presents an insightful exploration of the evolution of China's tourism market, explores Chinese tourists' behaviour, and considers how the country's tourism landscape will expand in the future.
Featuring 16 chapters compiled and written by industry experts representing 11 countries, this collection offers a vivid profile of Chinese tourists and the characteristics distinguishing them from other market segments. This book coincides with the growing interest in Chinese tourism and tourist behaviour as the top market in the world in terms of tourism spending and arrival numbers, presenting an overview of Chinese tourist segments and travel-related concerns to paint a clear picture of the market's status. Chapters address the future of Chinese tourism, providing industry stakeholders an up-to-date view on this valuable market along with suggestions to best harness the market's power.
Providing an up-to-date exploration of numerous contemporary issues, this book will be valuable to a wide audience, including advanced students in tourism, hospitality and leisure and recreation studies and stakeholders, authorities, establishments and employees within the tourism industry. This book offers readers greater knowledge about the past, present and future of the Chinese outbound tourism market.
Edited by Robin Nunkoo, Jun Wen, and Metin Kozak; Edward Edgar Publishing, 2022, 312 pp
In a time of rapid change for travel-related health interventions, this timely Handbook offers critical insights into the interrelationship between tourism, public health, and the wellbeing of local communities and tourists. Written with a global audience in mind, it features cutting-edge interdisciplinary research conducted by leading academics in tourism, public health, wellbeing, and social welfare.
Investigating the nexus between tourism and public health in an era of globalisation, tourism growth and COVID-19, this incisive Handbook rethinks the role of tourism in contemporary society. Chapters explore issues from medical tourism, spiritual health, and sustainability to wellness, social development, and disease outbreaks, providing key insights that will assist diverse stakeholders to better navigate this uniquely challenging time in travel and health promotion. The Handbook addresses the growing risks of international travel and considers how the tourism industry might evolve in the wake of COVID-19 and other crises afflicting modern society.
Cross-disciplinary in scope, this dynamic Handbook makes a crucial contribution to the literature on the consequences of tourism for public health. Its novel analyses of topics related to tourism, public health, wellbeing, and social welfare will be of significant benefit to tourism stakeholders, healthcare practitioners and policymakers.